In addition to a thorough view, UpDiagram's current views such as Kanban, Grid, Calendar, Mindmap, and Gantt Chart may be used for a range of goals and demands of each project. Then UpDiagram provides users with a new perspective, one that is more general, generic, and succinct, with the user as the User Dashboard and each project as the Project Dashboard.
You are a project member, and you become concerned when you don't know what your work has today, or when you have to spend a long time going through the statistics of the work done in a month, a week, or a day.
Don't worry, UpDiagram offers two types of Dashboards to assist you easily grasp and analyze your existing tasks. In terms of the Project Dashboard, the Items information of each project will be clearer, and you will discover progress, Items data, and a wealth of project information.
What features does the User Dashboard have?
Users may browse four dashboards to examine the account's work information via the User Dashboard.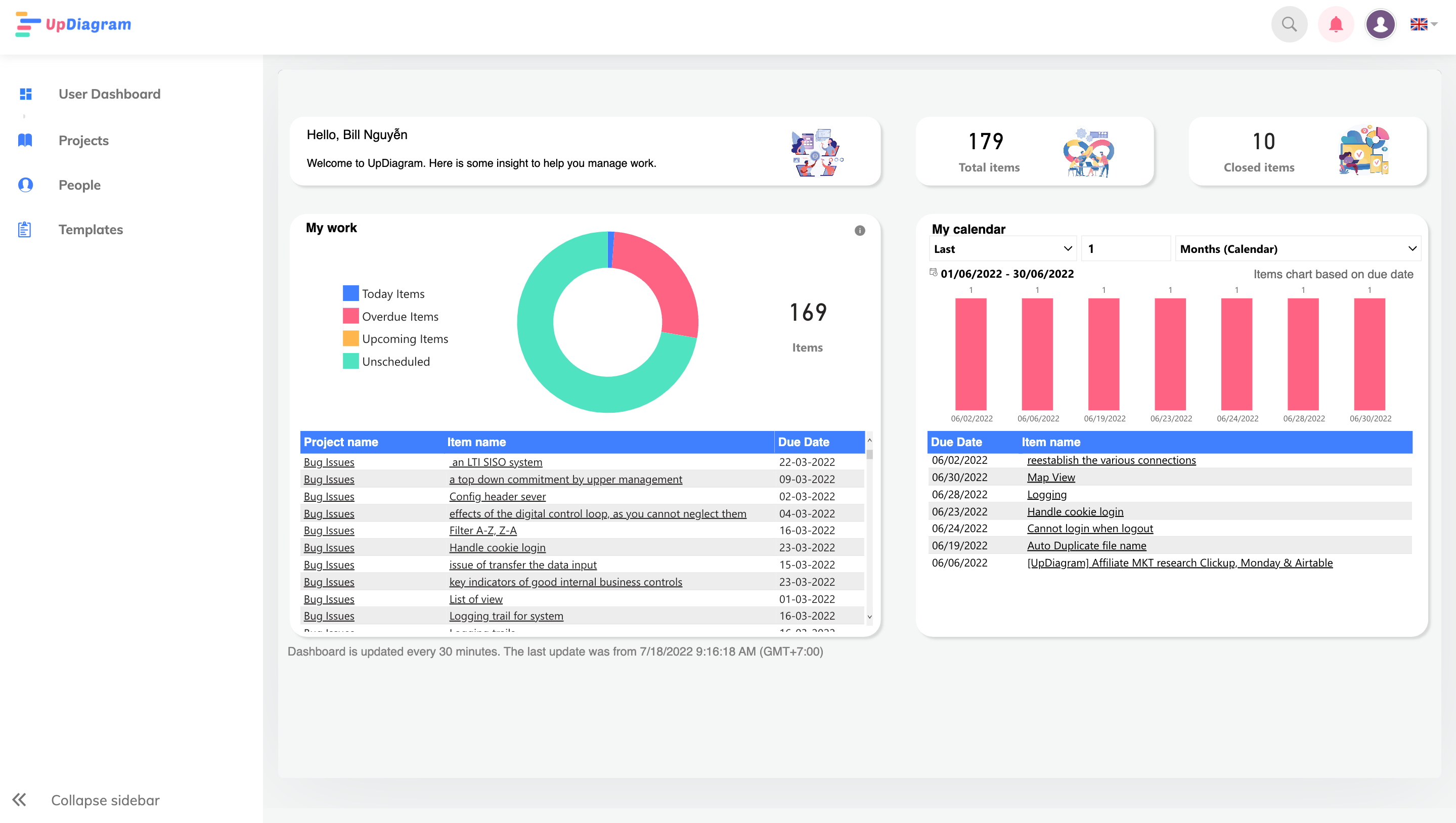 User Dashboard
– The first dashboard view concerns your present number of available positions. The User Dashboard clearly displays the project name, item name, and item deadline to the user. With four distinct requirements, such as:
Today Items: The number of items accessible today is shown.

Overdue Items: Statistics on the quantity of expired items

Upcoming Items: Items that are going to be due should be notified (showing items of the current week)

Unschedule: A location for goods with no defined due date.
– The second dashboard is where you can see how many Items you presently have and how many Closed Items you have.
– The third dashboard displays personal information about the account.
– The fourth dashboard is a calendar that allows users to keep track of their current projects. UpDiagram provides three types of calendars: monthly, weekly, and daily. In addition, users may select "List" to see the week's work as a list. When users utilize the software's functionalities, UpDiagram always provides advice. These recommendations will make utilizing the program easier and more efficient.
Tips:
1) A Popup Detail will display when you click directly on the Item name. When you click on the Project name, you will be sent to the Project Dashboard.
2) Every 30 minutes, theThe dashboard will be updated.
3) When in My Calendar, actions on Calendar Items have an effect on the Total and Closed Items above.
What features does the Project Dashboard have?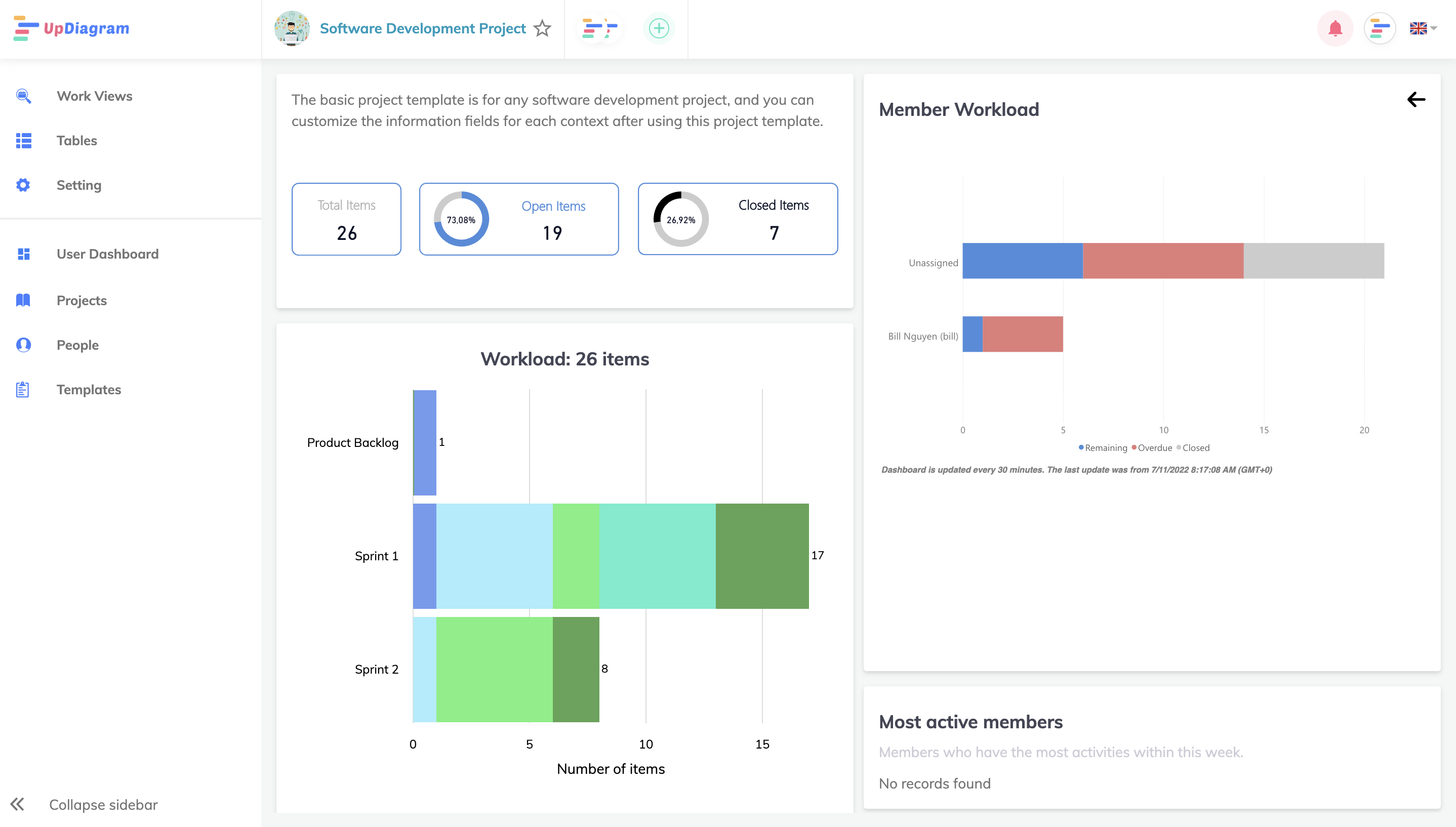 Project Dashboard
The Project Dashboard is one of two types of Dashboards available to UpDiagram customers. The Project Dashboard allows you to examine current project information, such as:
– Most active members: UpDiagram will compute and present active members during the week based on project operations and statistics.
– Member Workload: displays the names of the current project's members as well as the number of Remaining, Overdue, or Closed jobs.
– Workload: Here, people may look for jobs in Packages. This is also where you can keep track of the number and status of existing Items in the project.
– Total Items: Total Items, Closed Items, and Open Items are the three sub-panels of UpDiagram. In addition, we may determine the current proportion of Items here.
Project Dashboard, like User Dashboard, includes a few fundamental suggestions that you may refer to.
Tips:
1) Hover over the Workload Status to discover how many Items are now available. And then click on any Status to be transferred to the appropriate Package.
2) You may also highlight a job by clicking on its name and status (Remaining, Overdue, Closed) under Member Workload.
Summary
UpDiagram provides the User Dashboard and Project Dashboard for users to understand the process, the progress of project, and each person. Encourage project team members to take the initiative to complete tasks.
Furthermore, UpDiagram users comprehend what has to be done now and in the next few days, vibrant interface, and have the opportunity to interact freely and flexibly on tasks.
If you would like to get our help for your project setup, please contact us here, LiveChat, our messengers, or email hana@updiagram.com for more information on our UpDiagram solutions for agile agencies and to discuss your needs.