UpDiagram in Agile methodologies: How Alex uses UpDiagram to streamline his Scrum teams.
Alex is a Scrum Master at ITC Group, a software company that offers IT consulting and solutions to many businesses. Alex has played an accomplished and core role at ITC Group's engineering team, Alex with his company has helped many businesses be successful on their digital transforming path.

How Alex applies UpDiagram to support his work
While waterfall and other similar methodologies may have been the approach on projects in the past, agencies that traditionally functioned under such frameworks are now turning to more agile models to provide benefits such as greater flexibility, improved accuracy, and efficiency in delivering requirements, and quicker turn-around of products. 
Agencies that have historically used waterfall methods however would likely be familiar with the Scrum framework which helps manage tasks from start to finish.
Working at ITC, an innovative IT Outsourcing provider, we apply modern versions of Scrum in our project because it is believed to facilitate greater efficiency and productivity when compared to previous project management methods without sacrificing quality at any point during the life-cycle of a product or service.
In this method application, we can not miss our great helper, UpDiagram – a tool that supports us a lot in managing and tracking our Scrum project with less effort and more productivity.
How to apply UpDiagram in Scrum team?
1. Product Backlog
The product backlog contains many tasks and ideas involved in the development of a product. To manage all the user stories in my backlog, we use the Kanban Board mode view in UpDiagram to visualize user stories.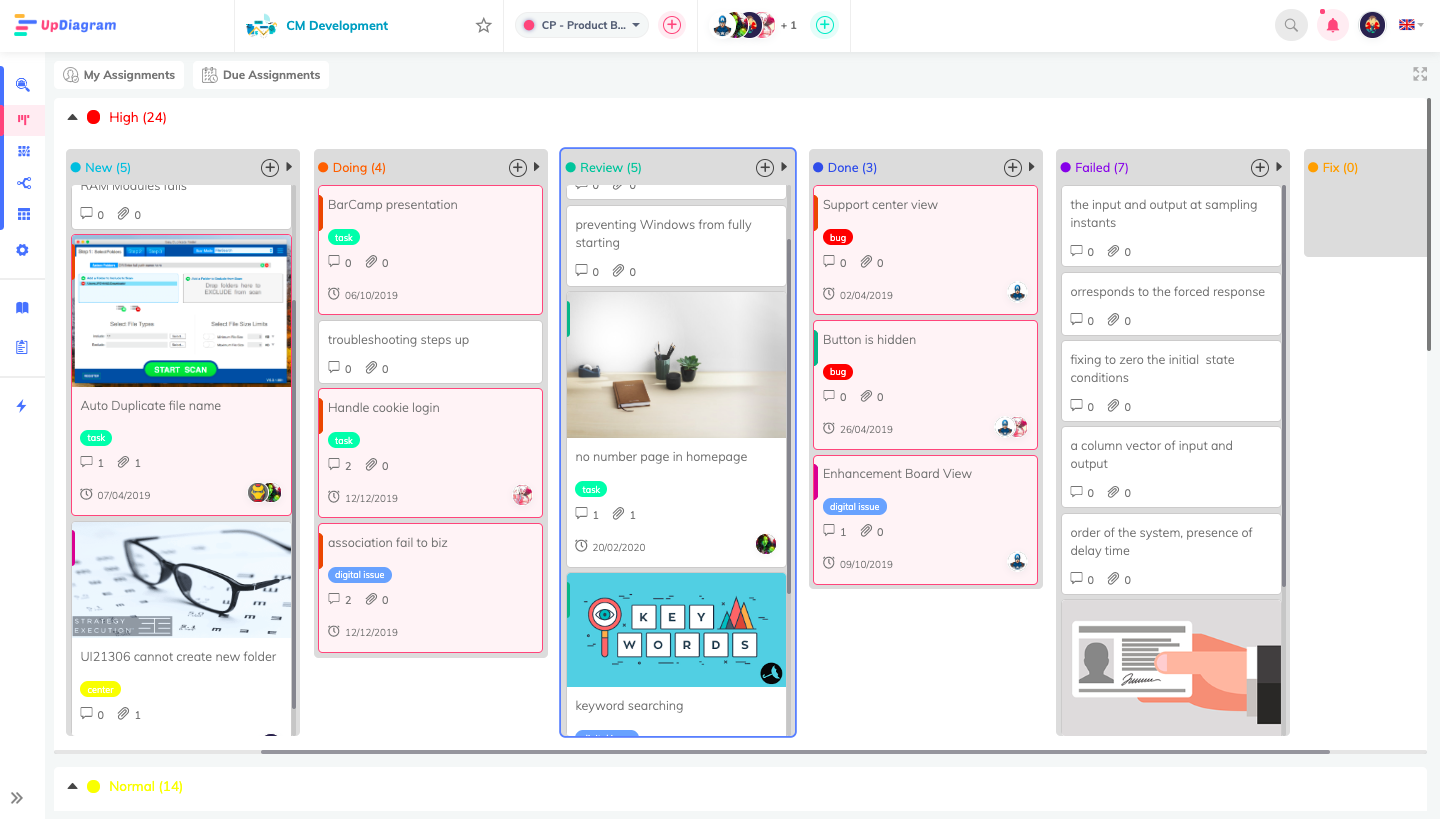 UpDiagram Kanban Board is easy to use for us at first due to its user-friendly interface. Just with some basic setup, we can freely add or drop and drag tickets in the product backlog, which saves me much time for switching their status.
2. Meeting
– Project Quotation
For each client meeting, I need a lot of time for calculating the price for the project quotation. But now with the UpDiagram computation field, I can easily add some formulas to my project. Everything I need is just to input the number into the field, and it assists me to do the rest of the things.
– Export Excel for a quick report
Working along with the Scrum team, we take time for reports in meetings. Traditionally, if I want to add statistics or information from a project to my reports, I usually have to solve it conventionally, copy and paste. But now with the Export Excel function in UpDiagram, I just need one click to export all my data into a spreadsheet format without losing any data.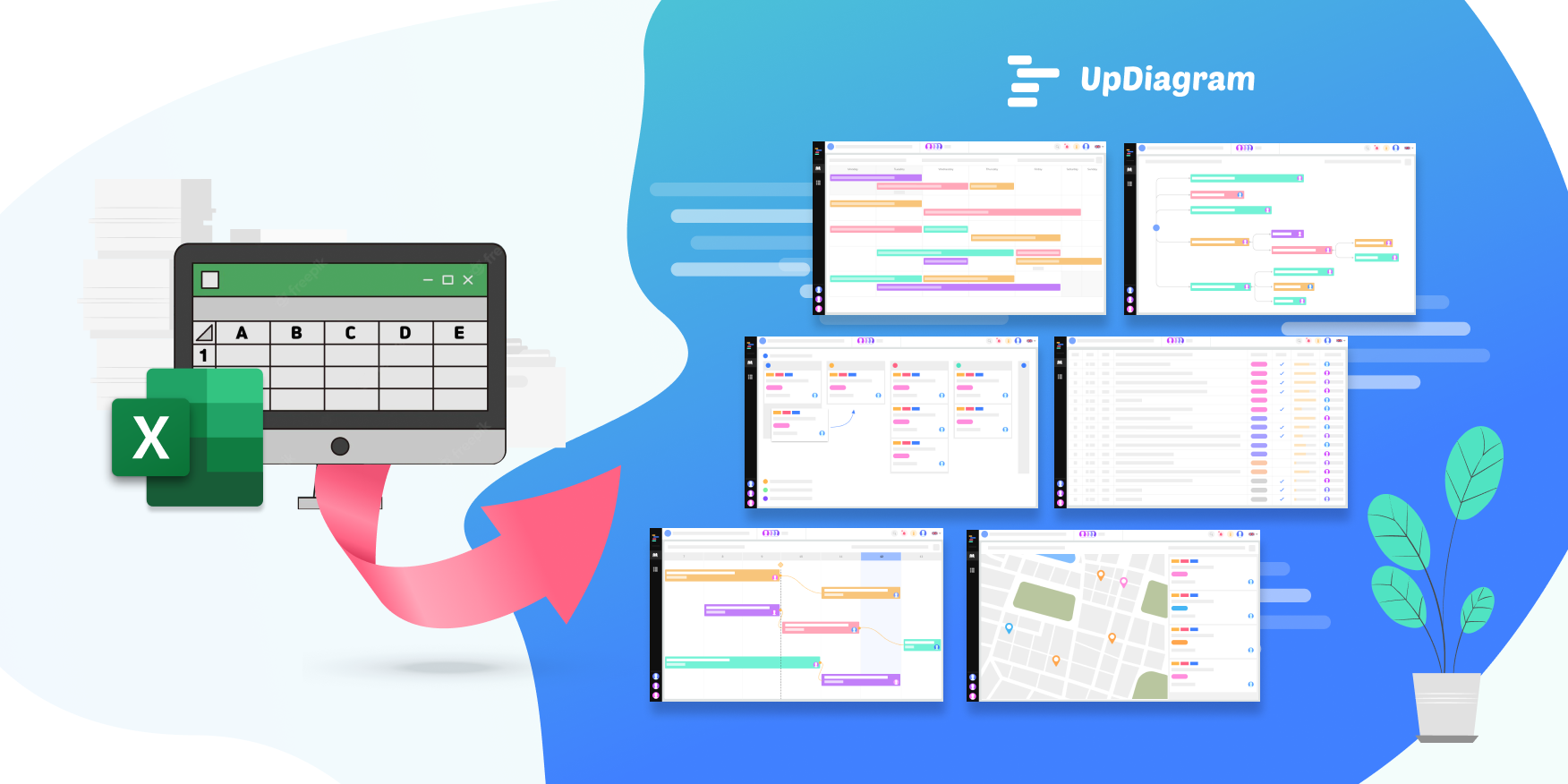 export to excel
3. Free templates
Whenever starting a new project, I prefer to go to the UpDiagram template library. For my personal use, I often apply from the UpDiagram Software Development templates. And I suppose these templates to be specialized and helpful because all settings mostly adapt to my recent team's demands, so I don't have to adjust them too much.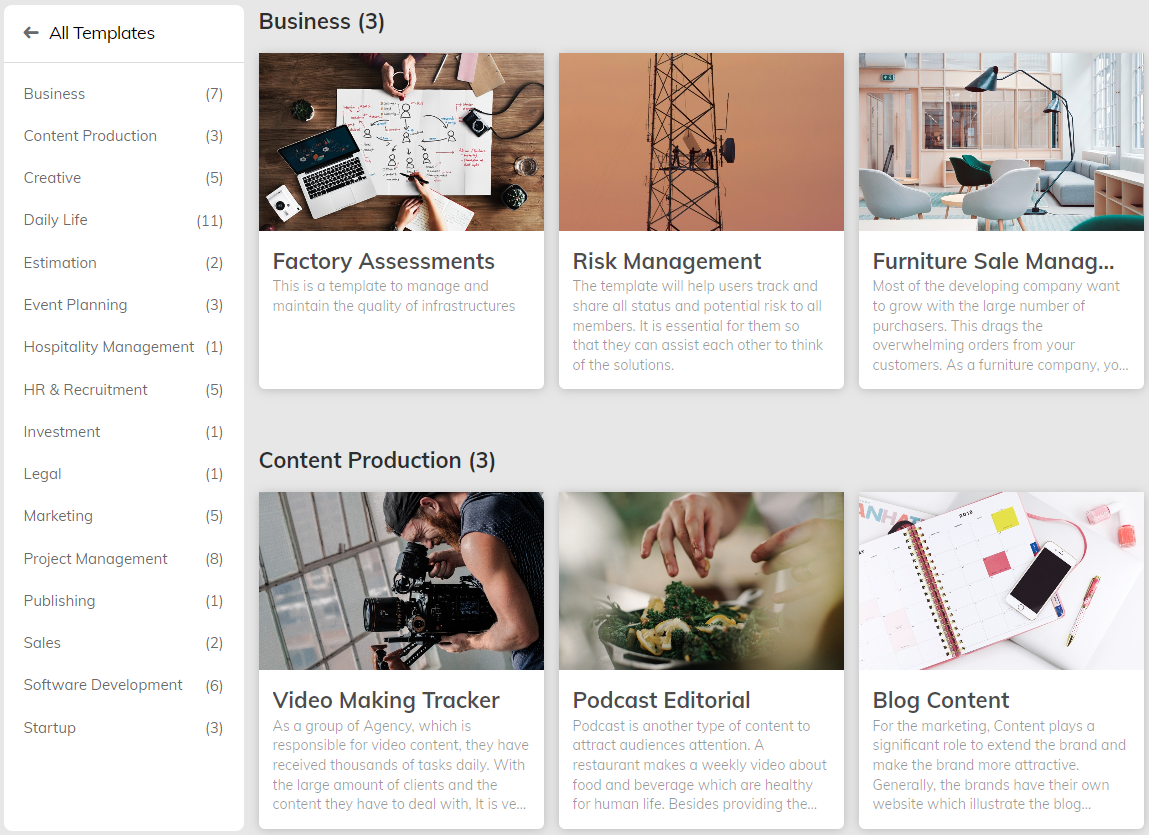 How UpDiagram boosts Alex's team productivity
1. Collaboratively attaches files: 
A user story can include plenty of information such as epic briefs, design briefs, project plans, and more.  In each ticket created in UpDiagram, we can easily share documents by attachment function, we attach a wide range of file formats such as doc, spreadsheet, image, pdf,…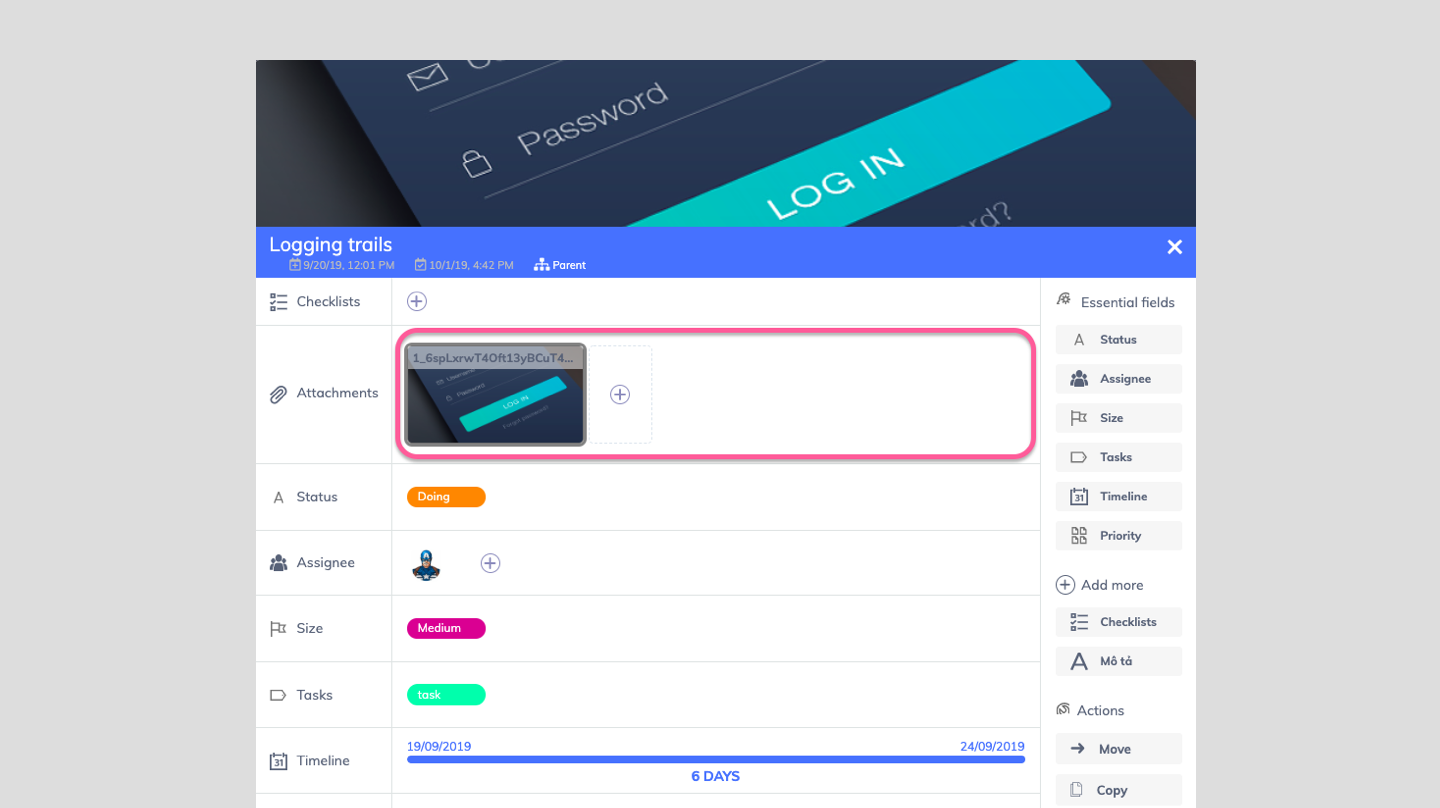 2. Multiple Assignees:
We found it collaborative to co-working and keep every teammate in the loop by adding multi members to a project in UpDiagram. We can easily assign a person in charge of a task and follow up on their progress by customized fields. With a comment function below each task and speedy notification, team members can raise their problems and feedback for particular assignments.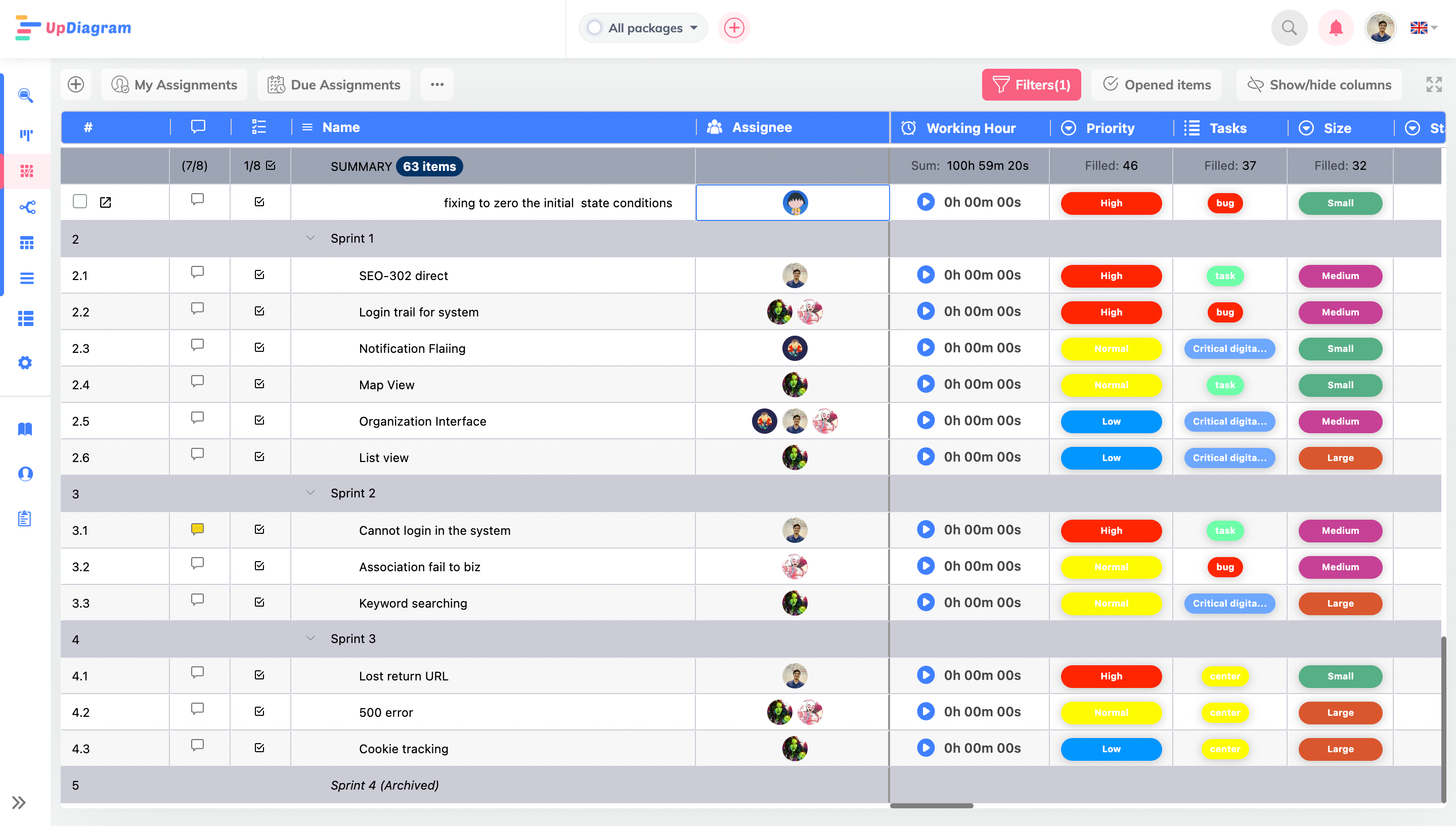 task assignment 
3. Manage team members' working hours: 
Tracking the working hours of the members seems to be an unfamiliar piece of work to me, but as the UpDiagram team suggested to me as a power that supports us in tracking members' performance, I try to apply this feature to my Scrum team. What I ask them to do with this feature is check-in and check out every time they start or finish a task. No one wants to be the latest or solve their assignments for a long time, so they try to do it in a more effective and time-saving way. I think it might be because of their awareness of the time passing effect on the Time Tracking bar, time is money, right?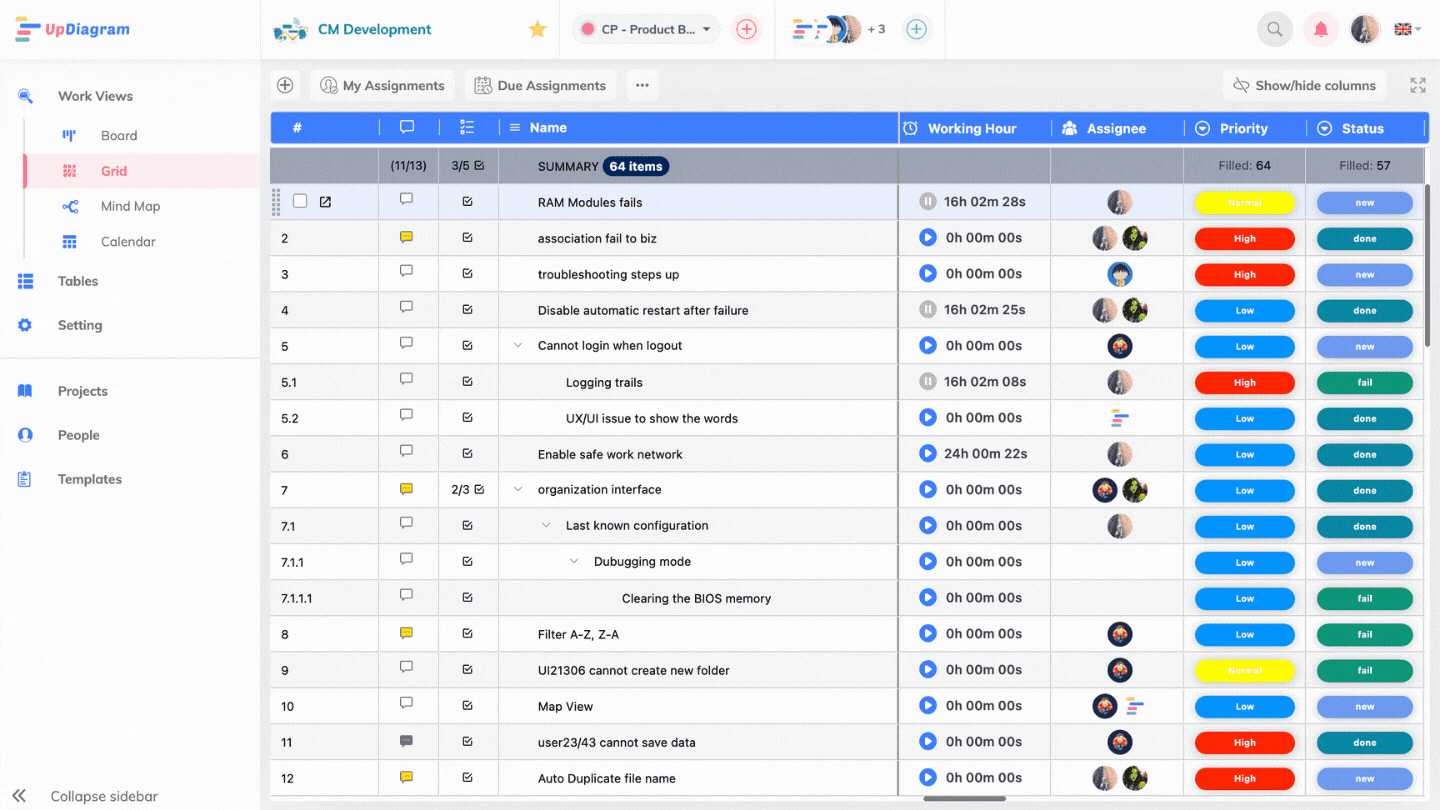 Feedback to improve:
Tickets in the UpDiagram Kanban Board Model view take large space. UpDiagram had better enhance an interface that can help me observe tickets neater and space-efficient. Filter in UpDiagram is a supportive function, but it is limited in other views, especially the Kanban board. We hope that UpDiagram will have the plan to develop this function for users to easily find and track the specific information in the project that they need swiftly
For a better UpDiagram Community:
UpDiagram is an innovative and client-centered platform. Every time I get into trouble or confused with some features or function, UpDiagram support team is always willing to contact me and help solve my problem timely. In Particular, UpDiagram is ready to listen to my team. While using UpDiagram, my team sometimes finds limitations in some UpDiagram features, so we suggested they develop one that can meet our demand.
For all those dedicated efforts from UpDiagram, I'm nearly an UpDiagram lover. Now I'm confident that I have knowledge of how to operate a project proficiently on this platform. I'm eager to share and help other UpDiagram lovers in their ways of mastering this tool. If you'd like to connect with me, reach out on LinkedIn!
A big thanks from UpDiagram
We are thankful to Alex for your precious feedback on our platform. We are proud that we did provide value to your team as well as your company, ITC Group. Our team is so grateful for your suggestion, we will have a plan to enhance and develop UpDiagram in our effort to provide you as well as ITC Group the best experience when using our tool. Thank Alex again for your interest in UpDiagram!
Any questions or feedback?
If UpDiagram users have any questions or feedback, please feel free to send them to us through our support email info@updiagram.com. We will be in touch within one business day.
Will we support implementing Agile in UpDiagram for your work?
The essential elements of implementing agile in UpDiagram have been covered in this guide. I deploy one of our pre-built solutions and then adjust based on the needs of the specific teams when I work with to maximize their agile setup in UpDiagram.
With this guideline above, you may tweak it and develop a custom framework in UpDiagram to organize your sprints.
If you would like to receive assistance with your Agile setup, please don't hesitate to reach out to UpDiagram. You can contact us directly through our UpDiagram contact page, LiveChat or via our UpDiagram messengers. We are here to provide you with more information on our tailored solutions for Agile agencies and discuss how we can meet your specific needs.