##GanttChart #SetUp #Tips #PMP
2 mins read
Set Up Gantt Chart
The Gantt Chart is one of the most popular view used in projects. It lists the tasks in your project and illustrates their relationship to one another and the schedule using Gantt bars. The Gantt Chart view is the default view for new projects.
Gantt chart conveys this information visually. They outline all of the tasks involved in a project, and their order, shown against a timescale. This gives you an instant overview of a project, its associated tasks, and when these need to be finished.
How to set the Gantt Chart View?
Step 1: Go to Custom View, then map the field to a custom view. Finally, press Save.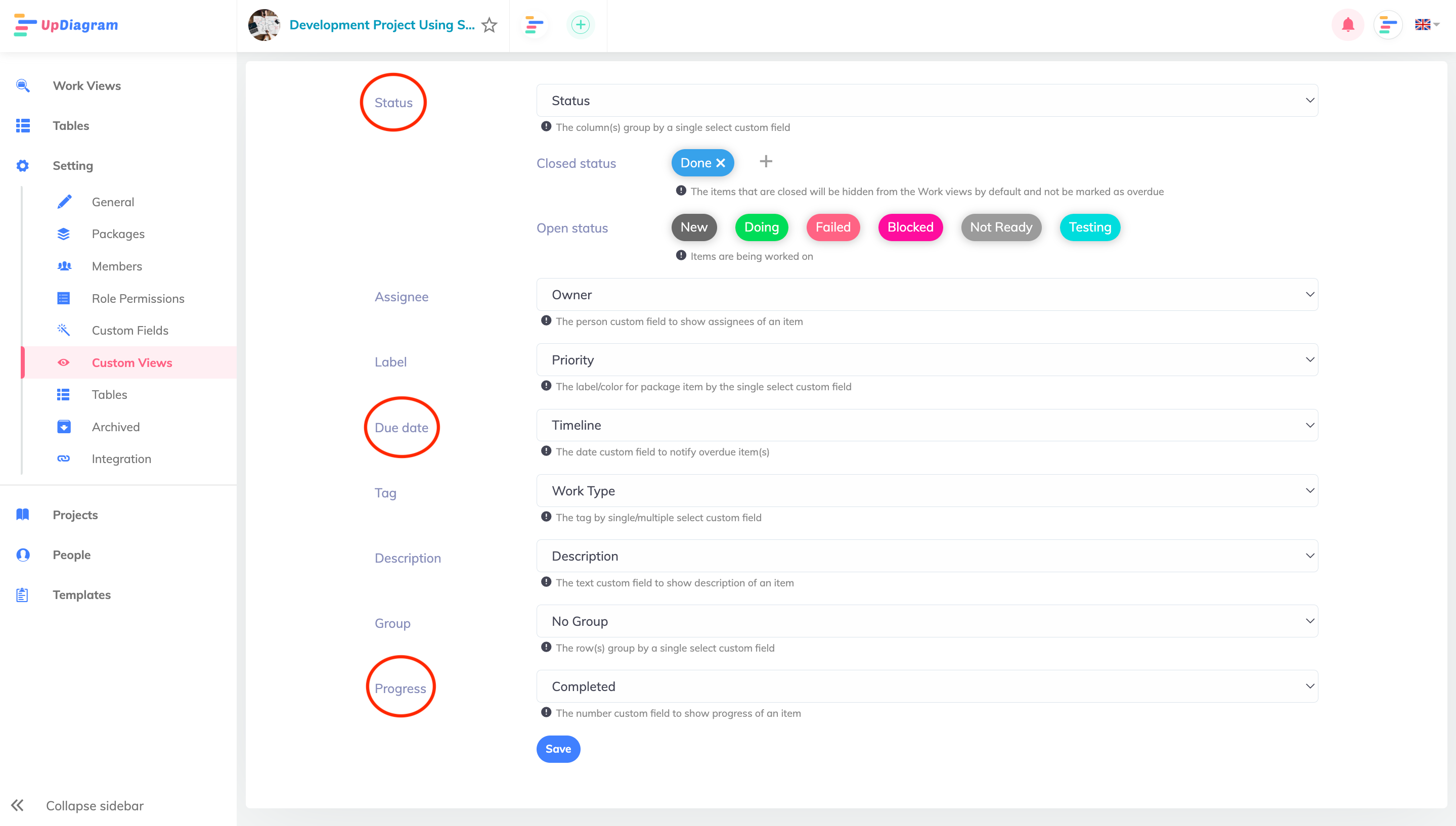 Here is something you need to keep in mind, including:
– Due Date is the most important field, because it allows you to display tasks on Gantt Chart. The timeline is the key factor to activate the Gantt Chart.
– To make your Gantt chart easy to view and track, Turn on status field as image above will help you color and highlight your tasks based on their status. Thus, you can catch up what is going on with specific timeline in one glance
– Progress will display the percentage of tasks (set up by Number Field). This mean you should add a field with Number type, example: We create one column named Completed and set its type is number. Then, mapping the Completed with Progress as image above. Now, you can change progress by dragging progress icon or input number on Popup detail.
Step 2: Add new Items for Gantt Chart View. 
To add a new item, you click the icon as image.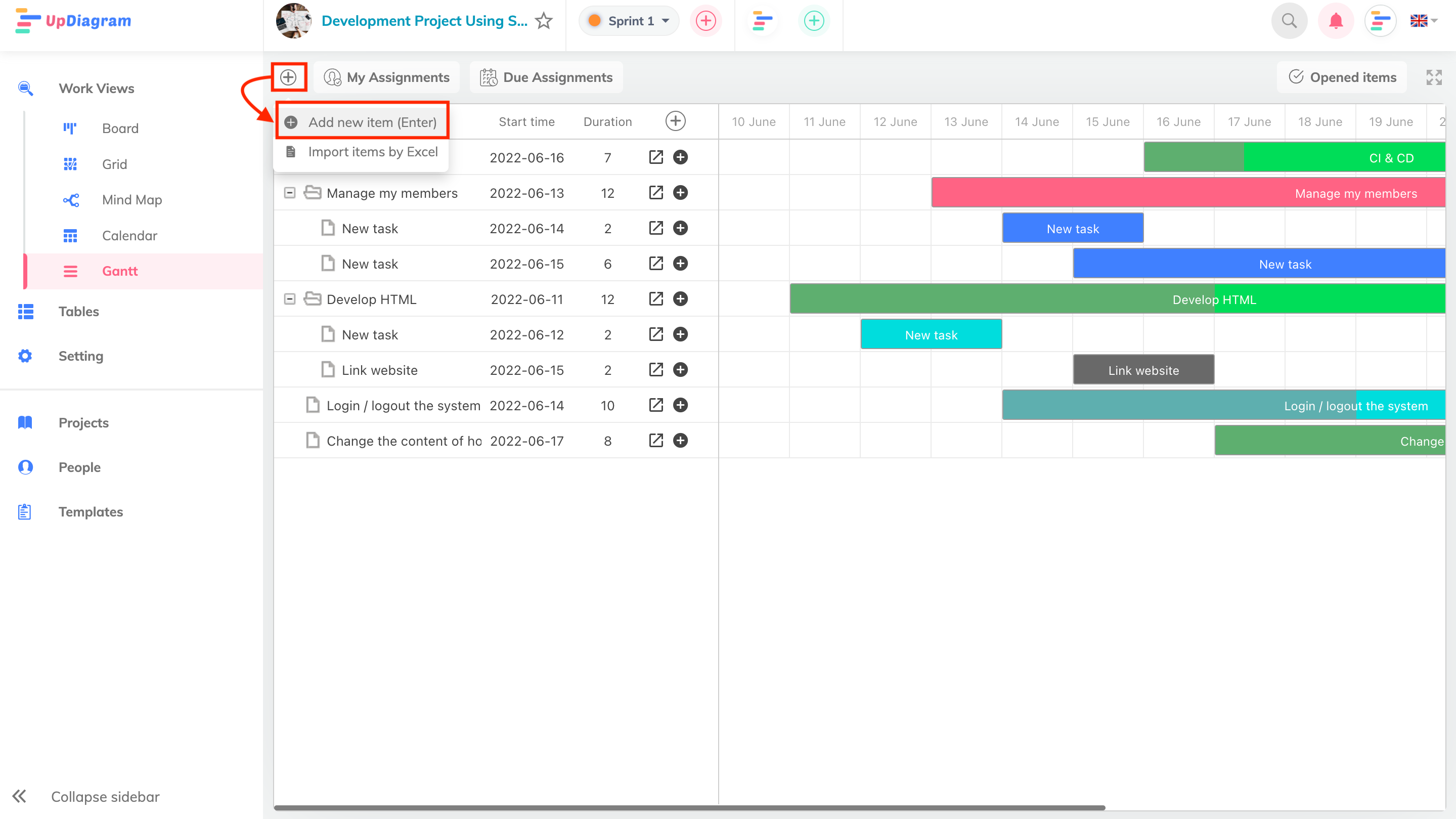 Then, you need to input the Description and set Time Period. Finally, you should click Save to create.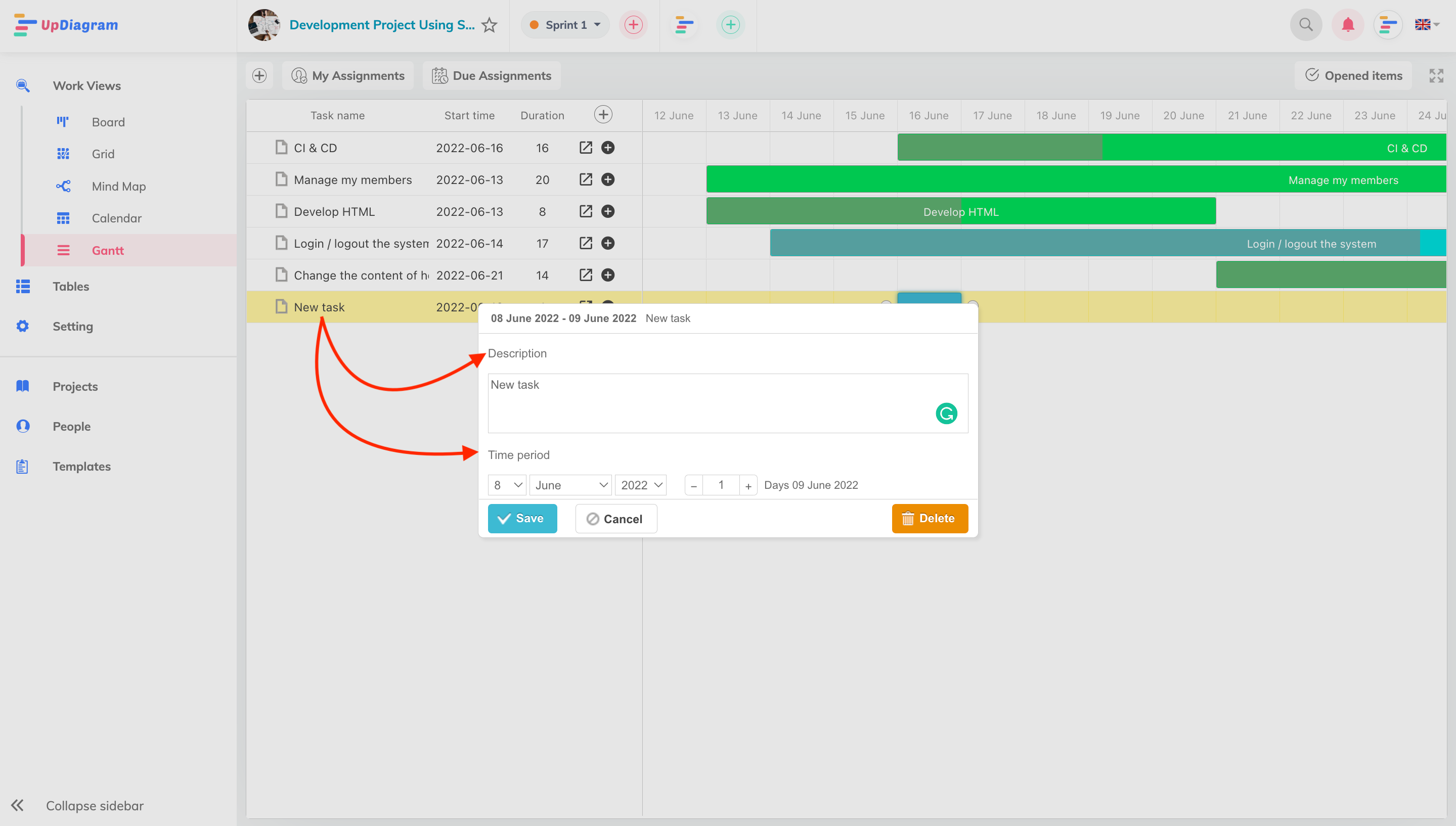 The tips you need to know when using Gantt Chart View
Tip 1: When you change the status of the tasks, their color will change too. Your working view will look more visual and clear to define the status of each task you need to handle. That is a tip for getting excited about your work.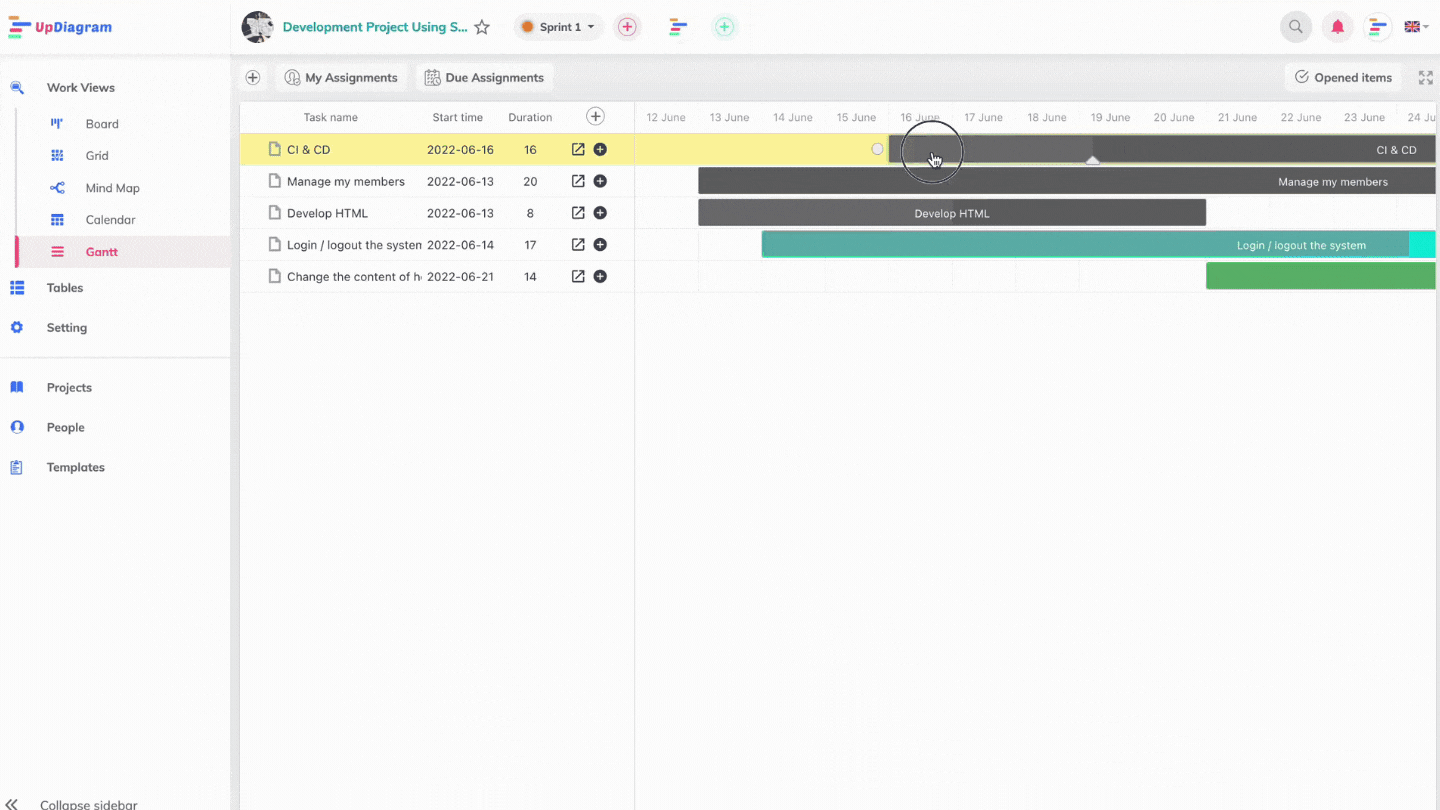 Tip 2: You can change the percentage of the completion rate. You can do it by dragging the progress icon or inputting the number, percent to tell your team the current progress of the task.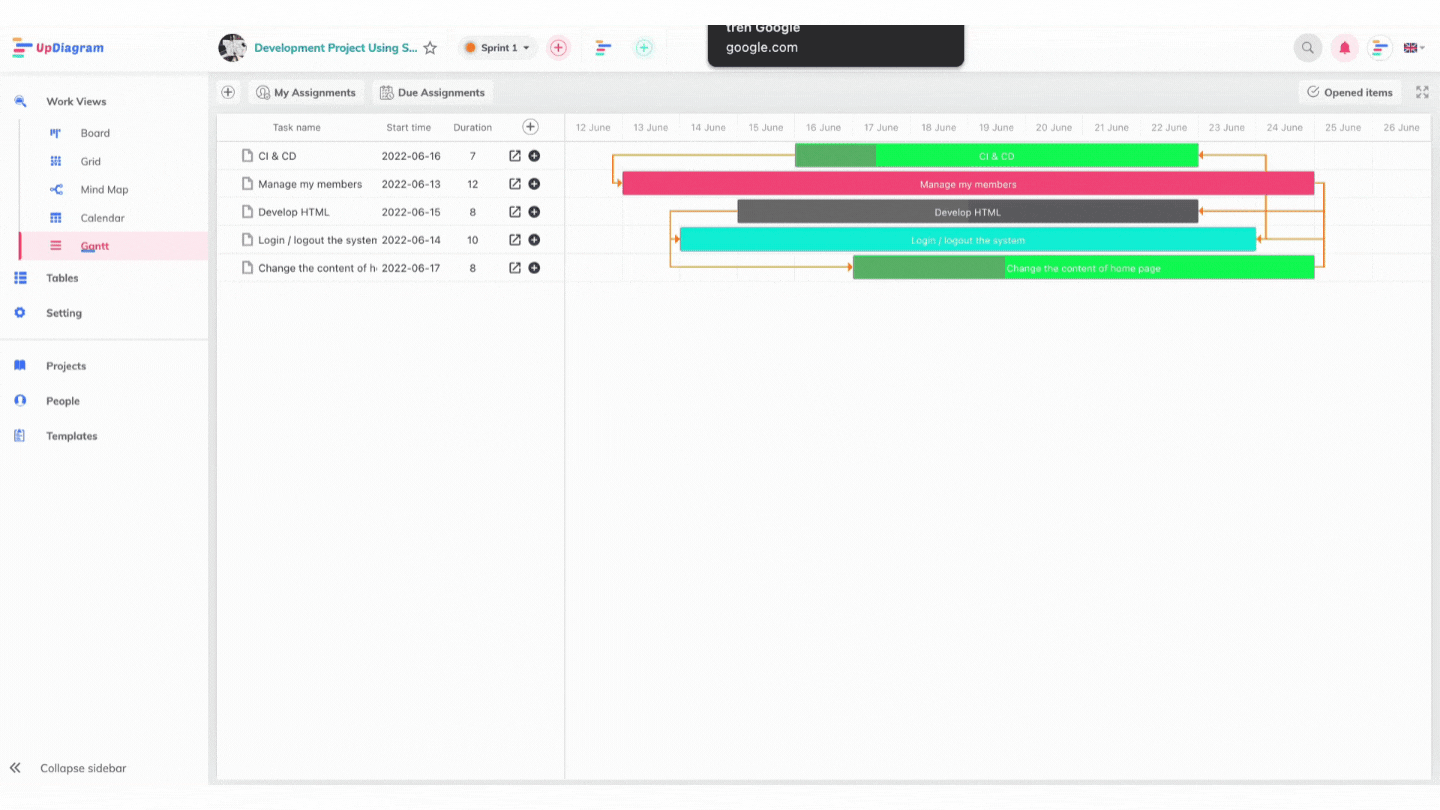 Tip 3: You can extend or shrink the timeline. The Start time and Duration change automatically. Users can drag the start and end time of tasks to be able to quickly change them.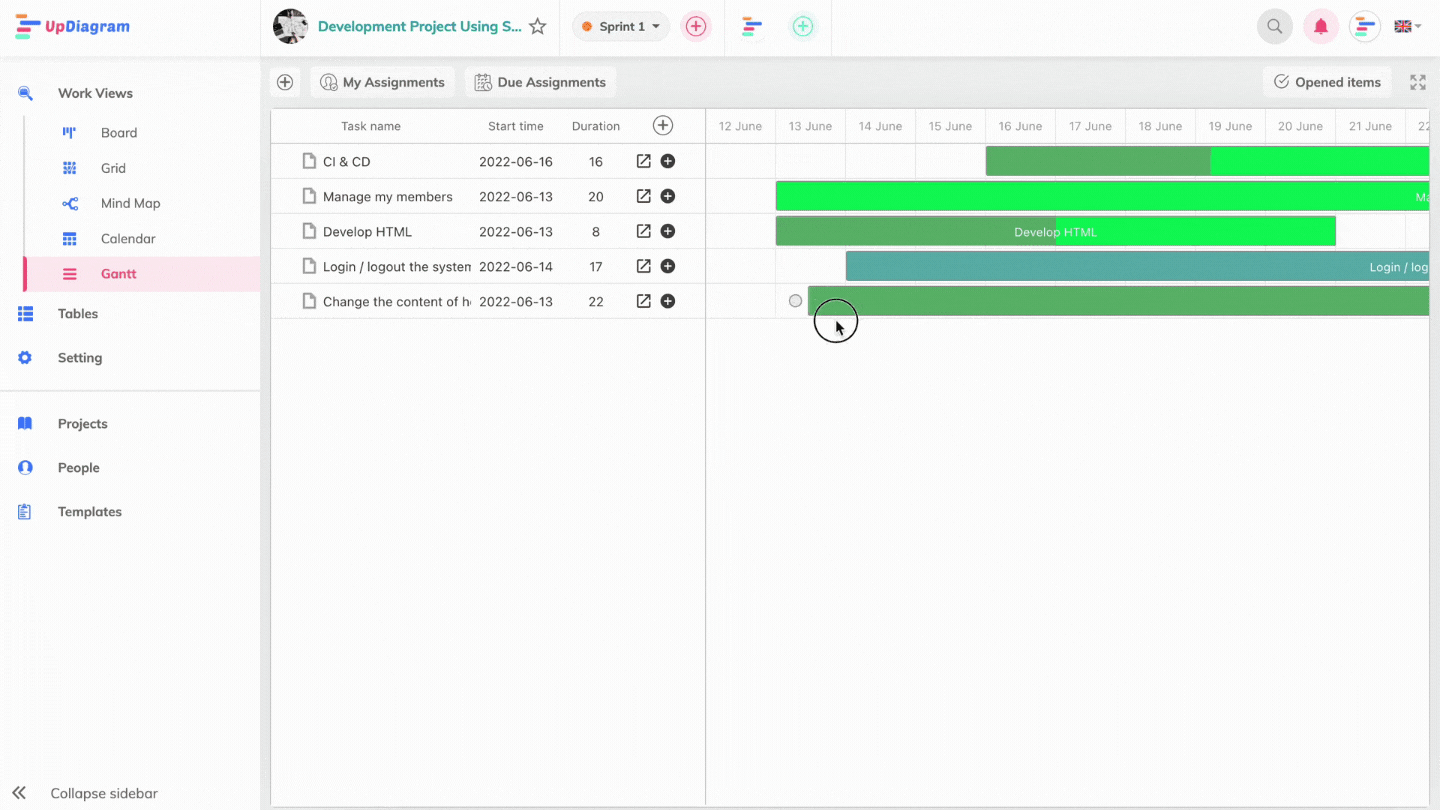 Tip 4: To add sub-items, you need to click on this icon.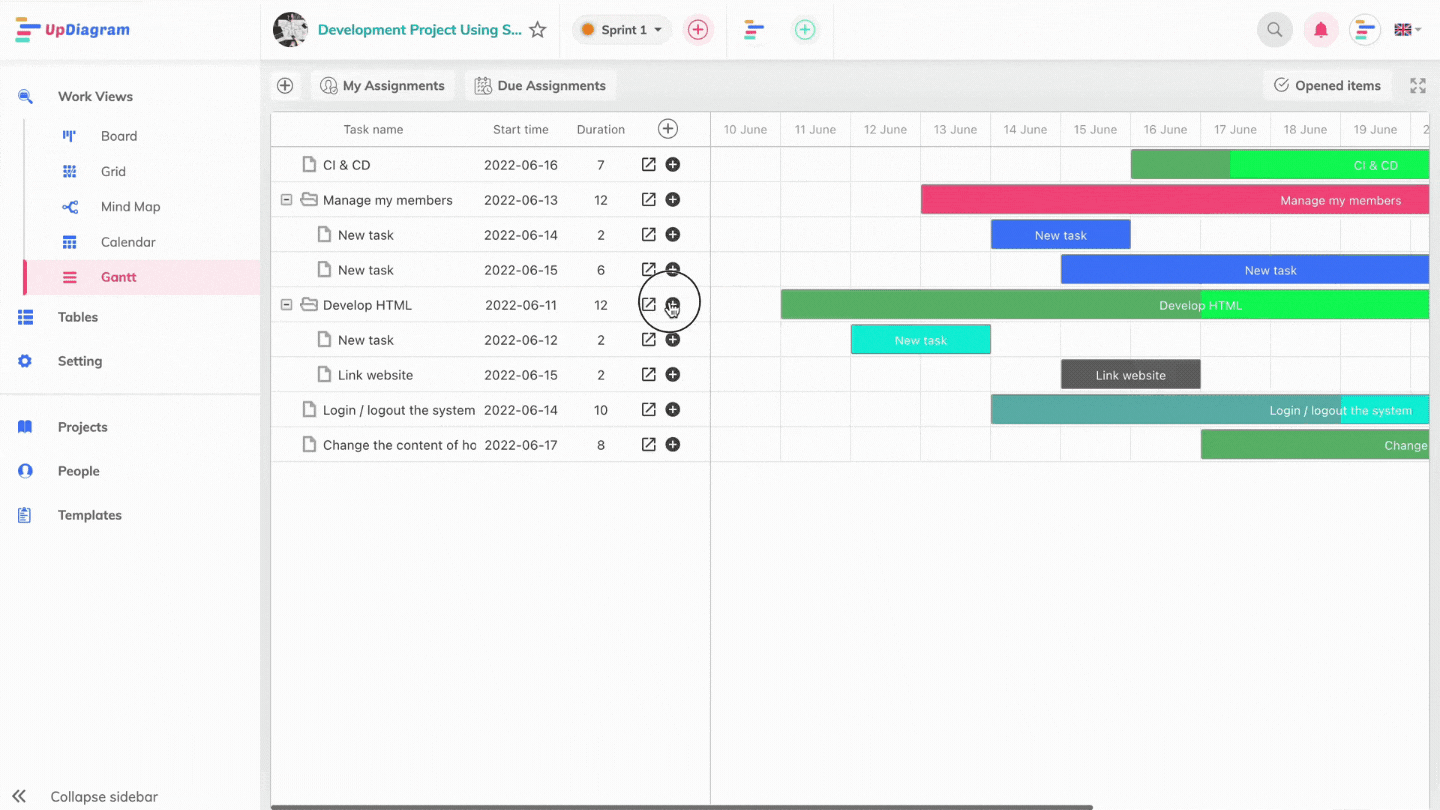 Then, you can input a Description and set Time period. Similar as the Items, subitems also have their own full features such as changing percentage, customizing length,…

What's in UpDiagram's Gantt Chart?
UpDiagram's Gantt Chart allows users to easily track tasks within a specified time period. With UpDiagram's Gantt Chart, users can view the project from the perspective of time and association. 
UpDiagram takes pride in allowing user to customize percentage of work in many ways and generating the flexibility for them to run their gantt chart as what they want for specific purpose. 
You can watch our above video to review how we Set Up Gantt Chart View step-by-step. If you need more assistance from us, please fill out this form. If you have any questions about this or anything else in this article, feel free to reach out to us at support@updiagram.com.
Good luck with your project!