#Project management #Project tools #WFH
4 mins read
Platform for remote tracking progress and working from home
Another article related to remote work management and homework management. However, today's article does not focus on working mode and trends but will focus on tools to support and optimize remote management. Thereby, you can also improve and update effective management solutions that correspond to the needs and sectors of your business. UpDiagram is proud to be the right tool and solution for businesses from startups to SMEs. For large businesses, we have a Partnership program that helps bring outstanding value to management with maximum preferential costs, but still ensures to provide full customization features according to enterprises' requirements.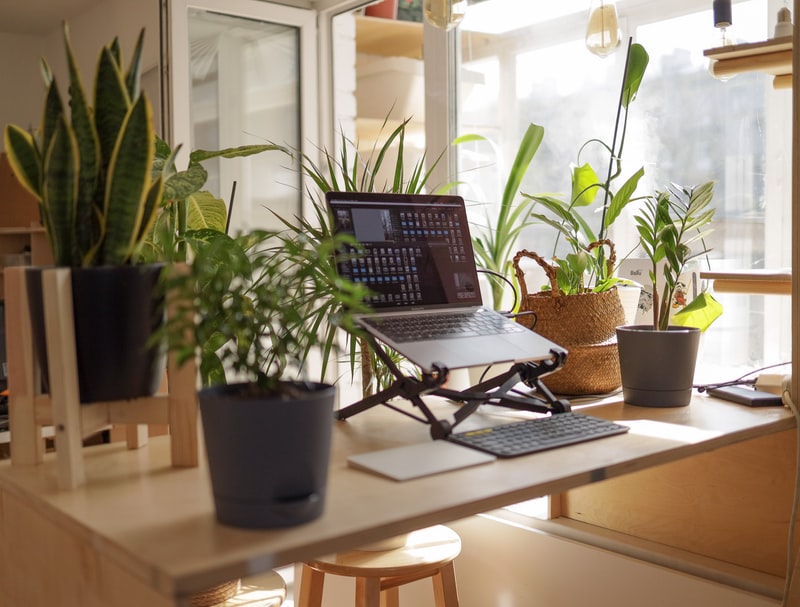 Practical need and how to operate remote management
Each business in different fields will need different management methods and requirements. So, there can't be a perfect formula to remotely manage tasks effectively for all. However, there are still core points that leaders need to grasp and adhere to help smooth management:
– Quantity and quality of members: Understanding the number of members in your team and the working ability of each member will help leaders easily assign the right people. Thereby saving time and ensuring work progress.
– Workload: Understanding work is an important factor to help project managers easily join teams and split work out. When operating the project, it is also easy for the manager to make decisions on additional personnel when needed.
– Due dates and estimated progress: Similarly, deadlines affect service performance and quality. Therefore, knowing the time and having the solution when needed is also very important.
– Monitor and update the status of work and personnel: During the operation, the work progress will not be able to follow the plan as well as the problem related to personnel. Therefore, updating the status of daily work helps to connect everyone and update the project status for the whole team.
– Collaboration, communication, and problem-solving: These are almost mandatory activities for any project. You will not be able to work effectively but always keep quiet with the members. At the same time, must always adapt quickly and have backup solutions when unexpected situations occur.
With the above criteria, project leaders can completely rely on the criteria to perform management work. However, whether working online or offline, remote project management software fully meets and supports businesses for management.
Read more: Top 5 effective project management platforms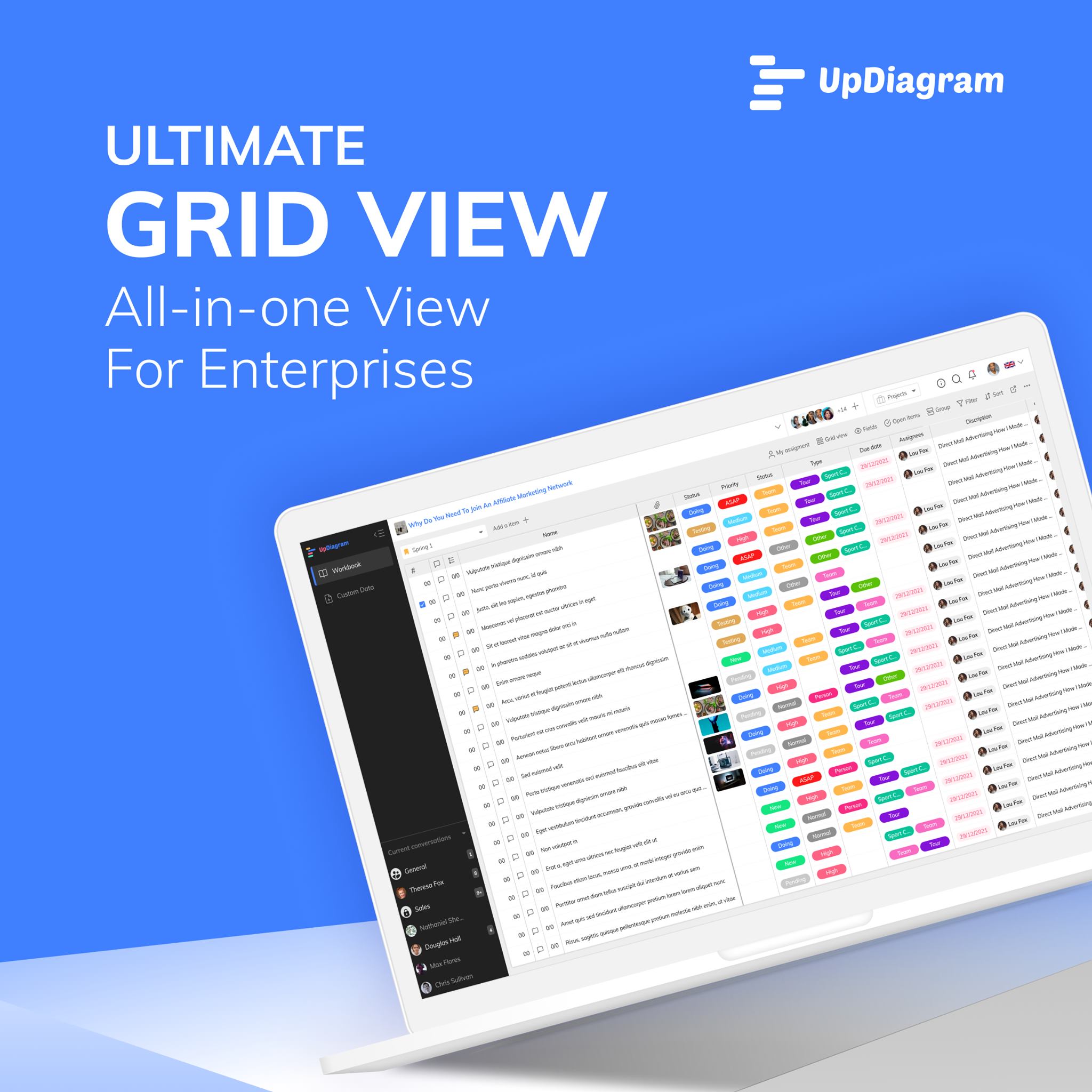 All-in-one Grid view for Enterprises
Why do we need a remote management application?
Basically, management in the 4.0 era depends on quite a lot on the Internet and other supporting tools. Not only that, the epidemic caused business models to shift to work-from-home mode. Therefore, adapting to market changes is imperative. Even before the epidemic occurred, management work still required remote management skills because all work information activities were updated on the system and only updated orally through weekly meetings.
​​Therefore, remote management is a trend that any business should apply, adapt and transform it into one of the mandatory processes.
With remote project management application tools, users are provided with specialized functions that make updating and managing work extremely efficient. In particular:
– Easily decentralize and capture working status information of each member.
– Always maintain progress and monitor work status.
– Ensure priority and deadlines
– Evaluate the team's ability and performance
– Control management costs and personnel allocation
– Training skills and self-discipline for the team
UpDiagram – project management and remote work application foro Agile and Scrum models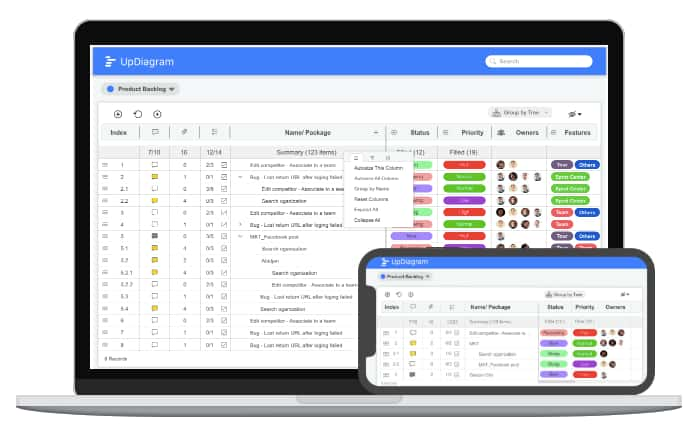 Ultimate Grid view
With a project management platform, UpDiagram provides the best overview of the company's personnel and workforce.
– A company will be able to add and update the status of all employees on one system.
– At the same time, leaders can assign permissions and roles of each member, helping to manage different tasks and departments.
– In addition, tracking which members are working on different projects makes it easy for leaders to allocate staff quickly.
Besides human resource management, project tracking is an indispensable element.
– With an intuitive view, users can cover the total number of projects in operation or in the contract negotiation stage. From there, it will accelerate the progress of projects and find potential new projects.
– Each project has a function to notify specific progress and deadlines.
– Easily monitor the personnel situation for each project
– Actively interact and communicate with each member on each job.
The functions are developed on an online platform, so the management is completely suitable for remote operation and application.
More specifically, UpDiagram always has Partnership programs with businesses to bring the best values ​​and benefits when using UpDiagram. Partners will receive the following benefits:
– There is no fee to join UpDiagram's Partnership
– No need to care about pricing plans. In other words, partners use existing functions free of charge
– Get support offers, 24/7 customer care, training and industry-specific solutions.
– Experience the latest products and services from UpDiagram.
– Participate in contributing and requesting specific functions for the partner's own business.
– Experience and use the functions required by the business.
UpDiagram is not only a tool but also a practical solution to simplify management processes while ensuring maximum work performance. The application is completely suitable for remote management for businesses from Startups, SMEs or even multinational companies because of the flexibility and continuous improvement of UpDiagram's system and development team.
Read more: Enjoy the Benefits of Partnering with UpDiagram
Contact us to get special offers and join UpDiagram's Partner program.