#Project Management Software #Review
5 mins read
Top 5 effective project management platforms
 Project management has now become a norm because most business domains require project management skills from small to large scale projects. Because of the development of technology as well as online management models according to Agile and Scrum methods. The need to develop and manage projects on a project management platform that integrates many features to serve the needs of the world is becoming a trend.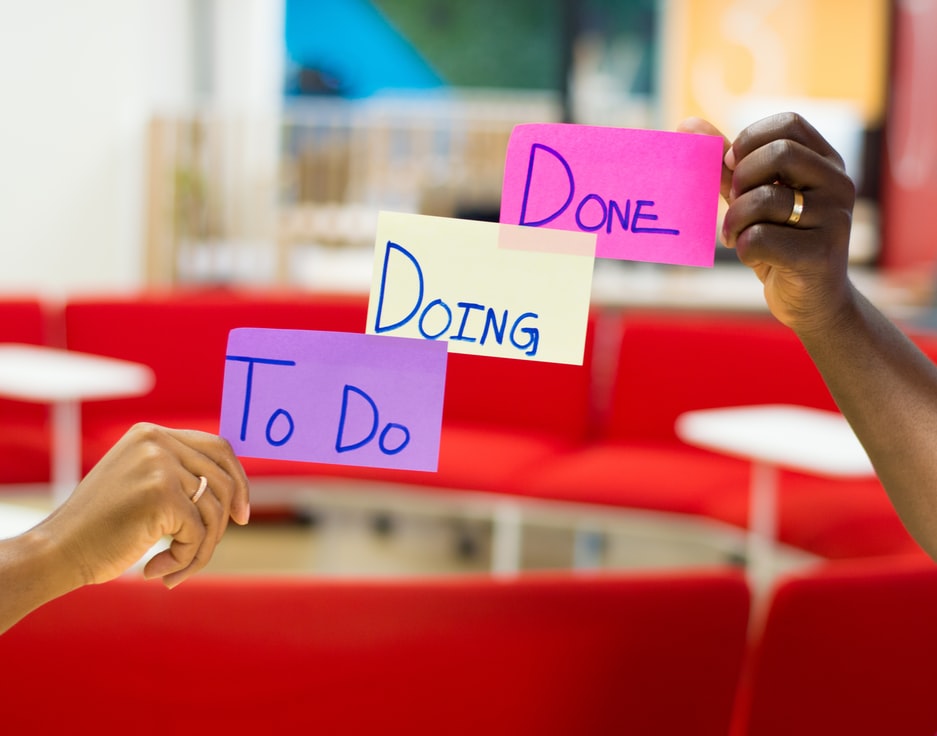 Today, applications are refined to adapt and respond to the needs and diversity of many business areas. Helping to increase performance, flexibility, collaboration and connectivity at all levels of a project in particular and businesses in general. With the list of 5 project management applications below, users will have more choices to meet the needs and costs of their business.
UpDiagram – new project management platforms
UpDiagram is a free project management platform and is especially suitable for Agile project management. It is a result of the structure and operating principle of the system allows users to divide tasks into different sprints. The project manager can fully control the timeline and workload. Besides different viewing formats such as Kanban, Mindmap or Calendar format. UpDiagram supports users to manage work, compare and customize with Sprint Planning quickly on one interface. Thereby saving time and minimizing errors in the process of planning and operating the project. In addition, the Grid view will give an overall visualization with just one view without more complex action.
Workview: Grid View
Work views for project management:
– Grid view
– Kanban
– Mindmap
– Calendar
In spite of being designed to be suitable for project management. UpDiagram is still able to adapt to a variety of fields from marketing, accounting, tourism, hospitality,… to the needs of managing daily personal work. In other words, it was developed to serve both the needs of personal use and enterprise-scale with completely free of charge.
Besides, UpDiagram platform supports users with Comments, Notifications, Export and Import projects from excel or from other applications. For sample project usage needs, UpDiagram also stores sample templates provided by previous customers and users. The information has been changed, but the structure of the project remains the same, so users can use it and make it suitable for their own purposes.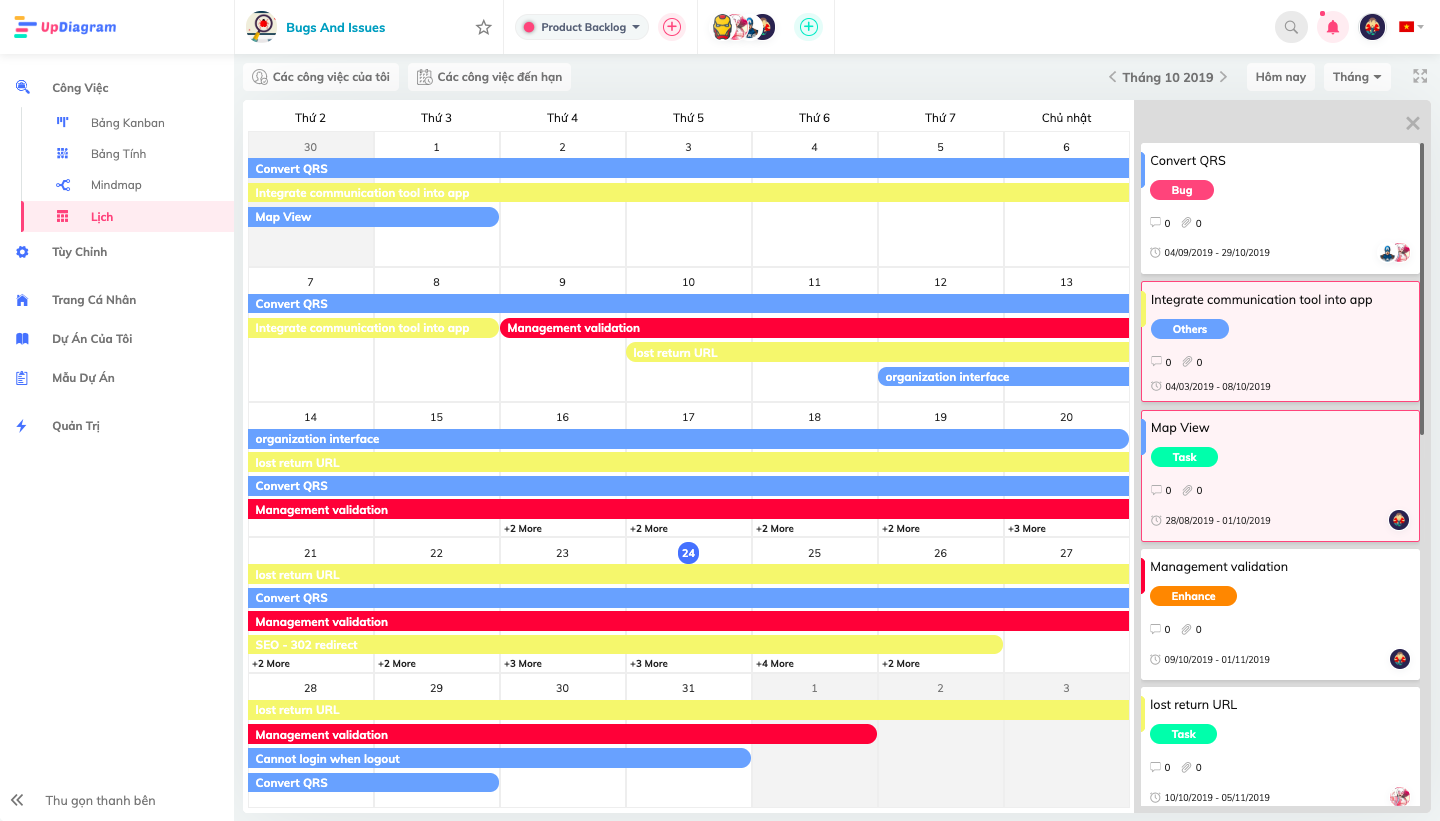 Work view: Calendar
As mentioned above, UpDiagram has a lifetime free package support for individual. Business-level usage needs if users do not have to upgrade special-purpose customizations. For more advanced packages. UpDiagram also supports a more favorable fee. Specifically, the Advanced plan is discounted from $5 for 1 user/month to $1 for 1 user/month. The discount period lasts up to 2 years. Not only that, for corporate partners, UpDiagram supports training guides and allows free use of up to 3 months for the Pro package.
If you want to find out more information about the offers for the project management application UpDiagram, you can contact the staff for better consulting.
Trello – good project management platforms
Trello is one of the popular tools when it comes to software because of its very early appearance. That tool is a management tool in the form of Kanban boards. It is because of the simplicity thanks to the familiar kanban interface that anyone who works on the project can understand and use it quickly. That Trello has won the trust of many managers.
Currently, other interfaces such as Timeline, Calendar, and Mindmap have also been refined and upgraded by Trello. So that people can use them for many different purposes instead of just one view in Kanban form as before. With Trello, users can choose to use free plans or other advanced packages. The price for the premium plan is about $10 for 1 user and the price for the Enterprise plan is up to $17.5 for 1 user.
Jira
Jira project management software stands out for its ability to customize the team's operating model, or the release process for each project at an enterprise scale. It also supports many different project view formats. At the same time, that tool serves the needs of document storage and management. And project members can easily searched and accessed. Thus, for projects that have more members involved in the life cycle, they can still capture project information easily.
Cons:
However, there is a significant barrier when using Jira is that accessing and getting used to it when starting to use it will take a lot of time. To use tool effectively, businesses need a training team to support the use and it will take time to adapt when new members join Jira.
Jira pricing ranges from $7 to $14 for 1 user/month. The cost will vary according to the number of users who will have a better discount.
Basecamp
In addition, Basecamp is also an indispensable name when it comes to popular management tools. Similar to other applications, Basecamp helps users manage remote projects effectively. Assigning and receiving work to project members immediately, combined with real-time notification function.
Pros:
Some of the outstanding features in terms of Basecamp include allowing users to create a daily to-do list, set up work times, attach information and create group chats to exchange between teams.
Cons:
With Basecamp, businesses will pay about $99 / month to be able to use the maximum functionality. In general, the price of Basecamp is considered to be quite high compared to the common ground of other apps.
Wrike
Besides other applications, Wrike is also quite popular as a provider of management solutions for large enterprises in the world. For that reason, there is no doubt about the ability to satisfy the needs of enterprise management with a large scale of personnel.
Pros:
Not only the basic features of a project management application. Wrike also supports integration with Zapier or allows synchronization with Github. Simultaneously, Wrike also has a free plan to experience or use at a personal level.
Cons:
On the other hand, Wrike with the enterprise version will require a large cost. Especially, startups or SMEs (small and medium enterprises) if they want to use the advanced functions of more advanced packages. Such as the Professional version for teams of 5-200 people, it is $9.8 for 1 user / month. Since this is the lowest package, other important functions will limited. And the higher cost of the package will be a big barrier, especially for Vietnamese businesses.
Conclusion
Above is a list of effective project management applications for individuals and businesses. This ensures users can experience, compare and evaluate applications to have the most suitable choice for them. Especially, in the covid era, working and managing remotely is one of the inevitable problems. The above applications hope to be effective solutions for users and businesses.
UpDiagram is having a program to support businesses that are in need of using management tools at a preferential cost. On the other hand, we are ready to support bilingual clients (English and Vietnamese). Thereby reducing the problem of language barriers and management costs. To experience the product for free, do not hesitate to register with UpDiagram now.