#New features #Update #UpDiagram Guide
1 mins read
UpDiagram Update: Advanced Search
Are you handling multiple projects and tasks simultaneously, and do you often spend a considerable amount of time and effort searching for tasks? Sometimes getting lost in the process? Let our new feature –  Advanced Search in UpDiagram come to your rescue to streamline your search process and optimize efficiency.
Are these your problems?
Difficulty in searching due to having too many tasks.

Time-consuming and laborious to repeat the same operations when searching for information multiple times.

Unable to search for information based on multiple criteria simultaneously.

Losing previous search history every time you exit the application.
How does Advanced Search solve it?
In light of the challenges you're encountering, UpDiagram launch the Advanced Search feature, aiming to lend you a helping: 
Quickly and clearly filter results by combining default conditions such as Packages, Creator, Created Date, and Updated Date.

Saving time with just a few clicks. 

Broaden your search options with personalized conditions in Custom Fields.

No more repeated manipulations are needed – it automatically saves your history and search results

 
We will show you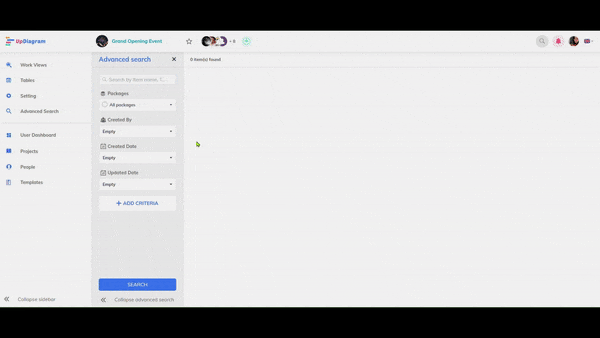 In summary, the Advanced Search feature is designed to simplify the process of finding tasks, helping users save time. With multiple predefined conditions, this new feature supports users in finding tasks accurately and easily. Additionally, users can create and customize conditions according to their individual needs. Don't miss the opportunity to improve work efficiency and enhance project management capabilities. Log in to UpDiagram and explore this amazing feature today!